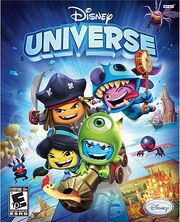 Disney Universe is a 2011 co-operative action-adventure video game, published by Disney Interactive Studios. It was announced at E3 in 2011 and was released on PlayStation 3, Xbox 360, Wii and Microsoft Windows on October 25, 2011 in North America and October 28, 2011 in Europe. It features the ability to suit up as characters from multiple Disney franchises, including the full-length animated feature films like The Lion King, the Pixar movies like Monsters, Inc. and the live action movies like Pirates of the Caribbean.
Gameplay
Disney Universe is an off-the-wall non-stop action adventure where Disney worlds and characters mix up for the first time. Suit up in iconic costumes and face challenges in legendary Disney worlds. Defeat enemies, collect coins and powerups, unlock new costumes and explore with friends as you battle in a mix-up of worlds inspired by numerous Disney and Pixar films.
Suit-up for action as more than 40 classic and comtempary Disney characters. Power up and explore 6 dfferent worlds inspired by Disney and Pixar films. Team up with more than 4 friends to solve puzzels or defeat enemies or toss your friend into trouble.
Worlds & Costumes
The two main attractions of the game are that players can travel to 6 worlds from classic and contemporary Disney and Pixar properties and acquire 45 costumes based on numerous other Disney franchises.
Worlds
Aladdin
Alice in Wonderland
Lion King
Monsters Inc.
Pirates of the Caribbean
WALL-E
Costumes
Community content is available under
CC-BY-SA
unless otherwise noted.